- so much more than Scottish music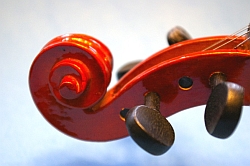 The Dunedin Scottish Fiddle Orchestra was established in 2013, convened and directed by Anna Bowen. In addition to 15-plus fiddle-players, we currently boast two cellists, two small-pipers, piano, accordion, flute, irish bouzouki and guitar, Although playing by ear and from memory is encouraged, most players are readers and use written music. Pdf files of the tunes we play are available under Resources.
The Dunedin Scottish Fiddle Orchestra meets Wednesdays, 7:30 - 8:30pm, at the North East Valley Community Rooms (next to the NEV Primary School on North Rd.). Players of all levels welcome. Attendance fee is a gold coin covering overheads, with any residue subsidising occasional workshops from visiting musicians.